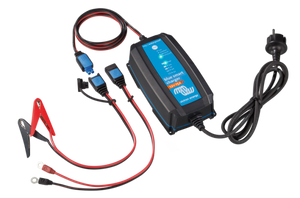 The Blue Smart IP65 Charger is professional battery charger with built-in bluetooth. So the status of the charger and the battery can be checked on a smartphone, tablet or laptop. All settings of the charger can be configured with the VictronConnect app.
The Blue Smart IP65 Charger can be used on devices in your workshop and on motor vehicles, such as (classic) cars; motorbikes; boats and camper-vans.
The charger comes with both crocodile clips and M8 eyelets - making it easy to connect to the battery. If you wish, you can leave it permanently connected.
 
Water, dust and chemical resistant
Seven step smart charge algorithm
Recovery of fully discharged "dead" batteries
Automatic power supply function
Severe cold performance: down to -30°C
Several other battery life enhancing features
Low power mode to charge smaller batteries
Li-ion battery mode
Input voltage - 230 VAC
Charge current, normal mode - 25A
Battery connection - Black and red cable of 1,5 meter
Weight - 1,90 kg
Dimensions (h x w x d, mm) - 75x140x240

Available CEE 7/16, CEE 7/17, UK, AU/NZ versions