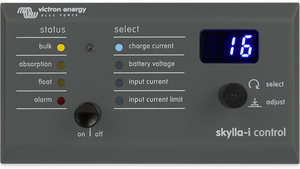 The Skylla-i Control allows you to alter the charge current and see the system status.
The Skylla-i Control panel is a remote panel designed to work with all Skylla-i chargers. The Skylla-i charger uses the VE.CAN bus.
Connecting the Skylla-i Control panel to your Skylla-i charger is a simple procedure. Connect the two devices with a regular UTP (Unshielded Twisted Pair) cable with two RJ45 connectors. Make sure that the two RJ45 bus terminators are in place at both ends. The Skylla-i Control panel comes complete with both RJ45 bus terminators. Both the Skylla-i charger and the Control panel have two RJ45 sockets which are internally connected, you can connect the cable to either socket.