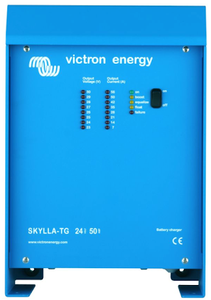 Victron Skylla-TG 24/30 GMDSS 120-240V battery charger

Installation made easy: the Skylla GMDSS
The Victron Skylla GMDSS Charger has been designed to provide all required monitoring and alarm data. Both the battery and the GMDSS system are connected directly to the charger. Data and alarms are displayed on a digital panel (VE.Net GMDSS panel, to be ordered separately). A standard eight wire UTP-cable connects the charger to the panel.

No adjustments needed
The whole system is 'click and go': the panels are pre-programmed for GMDSS functionality. A simple, intuitive menu allows changing of settings if required.

Battery time to go
The Skylla GMDSS charger has a built-in battery controller. The capacity of the battery is fully monitored so the panel can even indicate the 'time to go' in case of a power supply black out.

Perfect charger for any type of battery
Charge voltage can be precisely adjusted to suit any VRLA or flooded battery system.