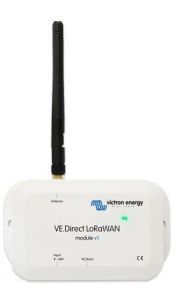 Using the VE.Direct to LoRaWAN module you can connect your BMV, MPPT or Phoenix Inverter to the Victron Remote Management portal. View information such as battery status or solar power wherever you are on your desktop or mobile phone.

Long Range Wide Area Network
LoRaWAN is a wireless network that operates on the 868Mhz frequency. It has a long range and uses small amounts of power. The VE.Direct LoRaWAN module can send hourly data updates via this network. You do not need a subscription to make use of this network. If you do not have coverage in your region it is possible to add your own gateway.

Remote Monitoring and Control
You can check the status of your connected products on our free remote monitoring website: the VRM Online Portal. To get an impression of the VRM Online Portal, visit vrm.victronenergy.com, and use the 'Try Our Demo' button. The portal is free of charge.

Frequencies used by the LoRaWAN module differ by region and country. We stock three different versions:
ASS030538010 - VE.Direct LoRaWAN

 

EU863-870 module
ASS030540010 - VE.Direct LoRaWAN

 

US902-928 module
ASS030542010 - VE.Direct LoRaWAN

 

AU915-928 module*
The EU version can be used in most of Europe and certain countries in Africa. The US model can be used in the Americas.
This module has one VE.Direct port and is compatible with:
- All MPPT Solar Charge Controllers which have a VE.Direct Port
- BMV Battery Monitor 700 series
- BMV Battery Monitor 710 Smart series
- Phoenix Inverter VE.Direct models
The module is not compatible with our Peak Power Packs - even though they have a VE.Direct Port.